Hisense 2.1 Channel HS218 SoundBar 200Watts
Key Features
Model: HS218
Channels: 2.1 CH
Subwoofer Dimensions: 170x342x313
Soundbar Dimensions: 960x58x82
Mountable: Yes
Power: 200Watts
DELIVERY
Order and receive it within 1-2 Working Days
Product Details
Hisense Television's Best Match
The Hisense HS218 2.1 is a much better version than the Hisense HS212, it is a unique Soundbar in that it creates an incredible sound in a compact and sleek form factor. With an elongated wireless subwoofer, it ensures that you'll hear and feel every sound whether it is music or just Cinema, enjoy your entertainment content, and more with this soundbar.
The HS218 is Roku TV Read, an app that comes pre-installed in most smart and android TV where there is always entertainment from shows, movies to music, it is certified and verified to work seamlessly with your Roku TV. What this means is that you'll enjoy a smooth reliable setup with easy access to your sound settings and compatibility with any Roku remote. With its amazing big and quality sound that delivers a huge entertainment experience anytime.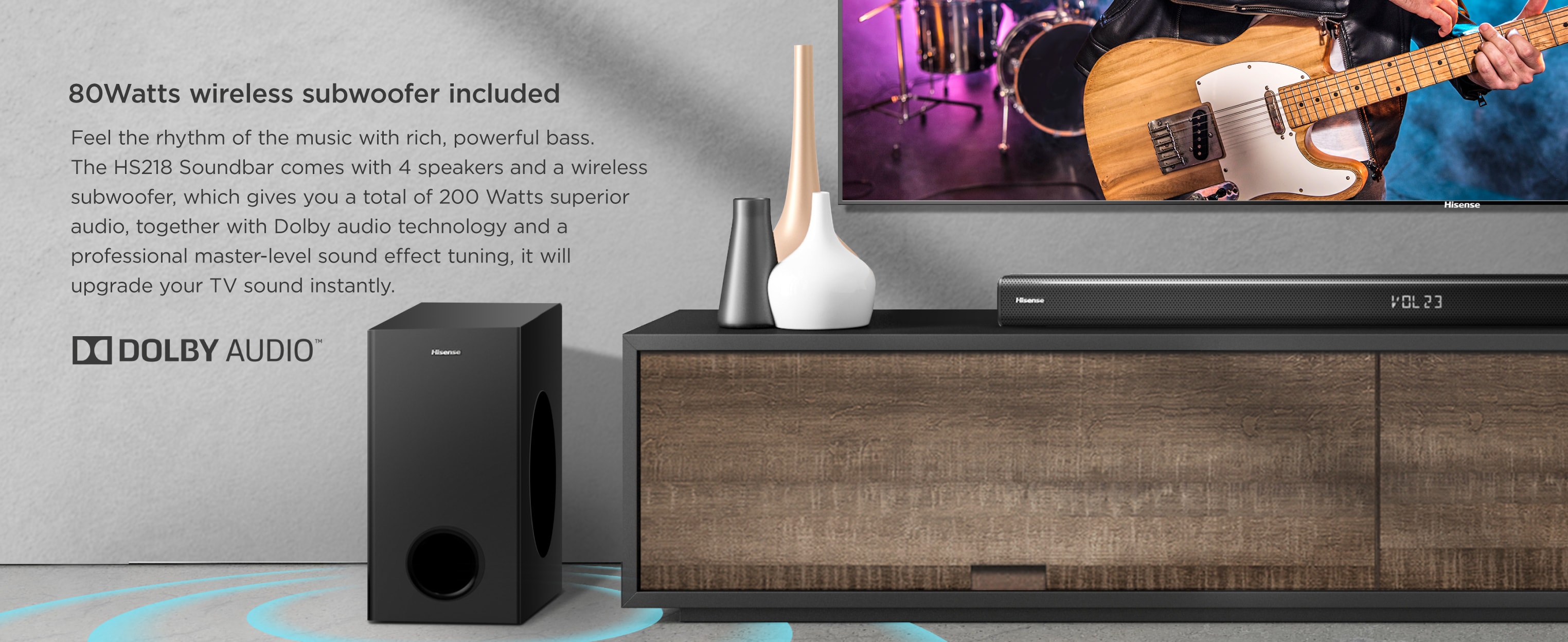 Soundbar Key Features
This soundbar is the best when in need to place it and connect to your television, the Hisense H218 soundbar is assured to significantly improve your TV entertainment experience, it is a perfect match for TVs from 32 inches and larger.
Do not just be comfortable hearing the scene, make an effort to get immersed in the scenes themselves.
A dedicated wireless subwoofer meant to deliver robust low-end frequencies that boost the sound of your favorite movies, music, and games, all without the need of using any messy wires to connect. You'll feel the bass of the soundbar better while the two front-facing speakers are in front to project a clear high-and mid-range frequency.
Easy Connectivity
With HDMI OUT (ARC), the Hisense HS218 Soundbar only needs to connect to your TVs through one single HDMI cable instead of the usual red white cables, and also get to connect wirelessly via easier Bluetooth, all this can be managed and controlled with just one single remote.
Connection is fast and efficient and starts enjoying better your TV sound better in seconds.
Wireless Music Streaming
The Hisense Soundbar includes a unique Bluetooth technology that has easy wireless connections to all your smart devices from your smartphone, tablet, or laptop including TV.
The connection is strong even behind walls and over two meters depending on the device's Bluetooth strength.
Multiple Audio Enhancements
According to different sound demands in different scenes, we designed multiple audio enhancements, such as Movie mode, Music mode, and News mode, you can switch to your desired freely.
Amplifier output power Performance
Channels Configuration: Left, Right, Subwoofer
Sound Bar: 120(30Wx4)
Subwoofer: 60W
Total Power Output: 200W
Sound Bar Performance
Frequency Response: 120-20000Hz
Speakers: 1 Full range and 1 tweeter per channel 4 speakers
Full-range Speakers size: 48x90 mm
Tweeter Size: 1.25 inch
Subwoofer Performance
Frequency Response: 40-120 Hz
Speaker Size: 6.5 inch
Sound Enhancement
Surround sound mode: On/off
Bypass: Yes
Sound mode: Movies, music, news
Decoding
Dolby Digital: Yes
Audio Compression: Yes
Features
Wireless Subwoofer Connection: RF link in 2.4 GHz band
HDMI Audio Return channel input: Yes
Bluetooth: Yes
Demo mode: Yes
Firmware Updates: Yes
Auto wake mode: Yes
Supported inputs: Aux, Coaxial, optical, HDMI, ARC
Setup Mode: Press Source and VOL+ on the soundbar
Box Content
Hisense 2.1 Channel HS218 SoundBar
Hisense 2.1 Channel HS218 Subwoofer
Power Cord
HDMI Cable
Manual
User Guide