PLAY STATION 5 Standard Edition (PS5 PS 5)
Key Features
The best gaming console in the world is now in Kenya for the best price check out www.gobeys.co.ke
Make your purchase now and we will have it delivered to you within 24 hours.
CPU: X86-64-AMD
GPU: AMD Radeon
Ray Tracing Acceleration
SSD Storage System
3D AUDIO
RAY TRACING
4K TV GAMING
120HZ MOTION RATE
4K UHD Blu-ray disc drive
Tempest 3D Audio Tech
Backward compatibility with PS4 games and SVR hardware
Support of 4K 120Hz TVs,8K TVs, VRR
Haptic Technology
Adaptive Triggers
825 GB Storage
DELIVERY
Order and receive it within 1-2 Working Days
Product Details
DESCRIPTION
When Sony launched the Play Station 4 on 15 November 2013, it broke all the limits set by previous gaming consoles around the world. The graphics of the game were on another level not witnessed before and the number of games available to be played increased together with their quality.
It connected gamers all over the world under one banner of PS4. We thought that was the limit of Play Station consoles but we were proven wrong when Sony announced in 2018 the production of Play Station 5. On November 12 Sony launched the Play Station 5 which broke all the previous limits set by PS4.
The PlayStation 5 has all the qualities of the PS4 and much more, everything you see on PS4 has been upgraded to a whole new level.
DESIGN
MAIN UNIT DESIGN; The new PS 5 comes with a new standing design letting go of the old flat-lying design of previous gaming consoles. The main unit comes in a white and black color scheme with an incorporated peaceful blue lighting around it that is not very bright to bring about a calm environment. The white color is thick to create an appealing image and create a calm atmosphere to the user while the black is dark to compensate the white to give out a strong presence of the machine. The lighting creates a revolutionary design.
Its shape creates what we can only describe as a 5-dimension design sleek and smooth on the edges. The design is original from any console ever created becoming the first of its kind.
CONTROLLER DESIGN; Apart from the main body the controller itself is a state of the art on its own with precise detailing on it. It shares the same color in its body with the same blue lighting around it. It harbors what could only be described as the next-generation control pad.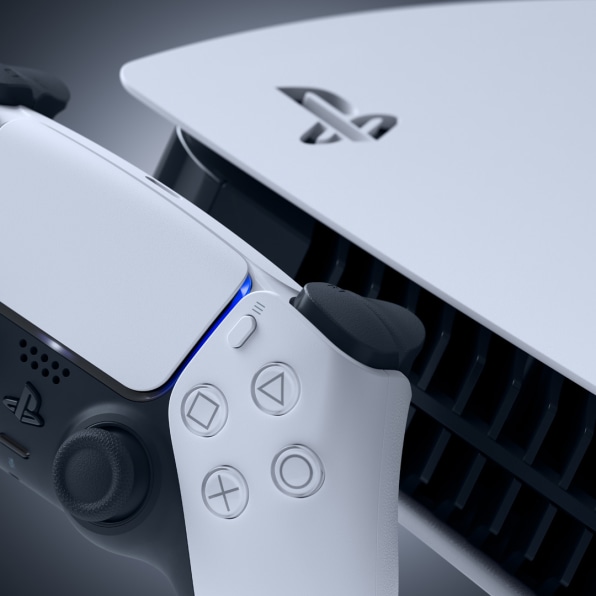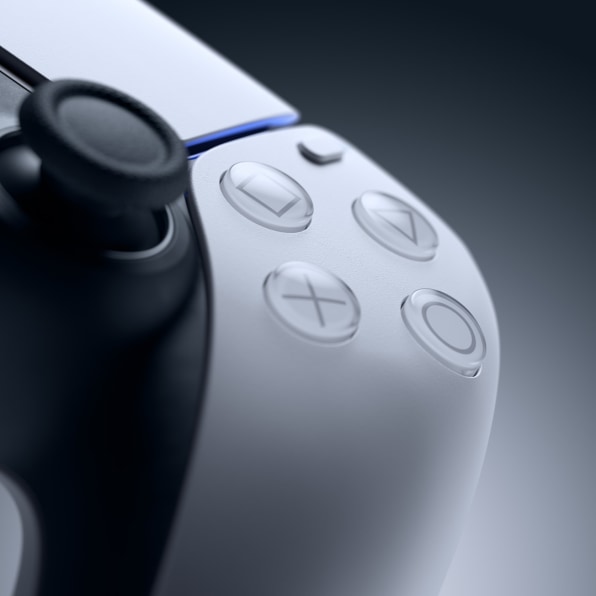 The buttons blend in with the rest of the controller in one tone, the buttons are soft and easy to press which comes in handy while gaming.
BODY DESIGN; On the top, the designers made sure to create vents to reduce temperature while in use, with this vent we bid goodbye to the machine overheating while and eliminates the fan's noise when it's been in use for a long time.
On the front, you get the USB ports to connect your external drives or charge your console. While the back you get the power inlet port for plugging the power together with the HDMI port to connect with your TV.
The design is great and all but one might ask 'how about the hardware?'
HARDWARE AND CPU
When talking of specs, the PS5 has the most advanced, fast, and impressive piece of hardware on the planet today. It has the new custom RDNA 2 GPU, this GPU is known to easily boost operating speed to make the machine perform at a clock speed of 3.5GHz.
If that is not all get fixated on its memory capacity that is 16GB of GDDR6 memory and the NVMe SSD, you get to store your personal data on it and install all the cool games you are thinking about. What else can this machine lack in this modern era? As the specs that it is equipped with compared to other gaming consoles make the PS 5 look like an invention that is out of this world.
In Summary, you get
CPU: AMD Zen 2-based CPU with 8 cores at 3.5GHz (variable frequency)
GPU: 10.28 TFLOPs, 36 CUs at 2.23GHz (variable frequency)
GPU architecture: Custom RDNA 2
Memory interface: 16GB GDDR6 / 256-bit
Memory bandwidth: 448GB/s
Internal storage: Custom 825GB SSD
Usable Storage: 667.2GB
IO throughput: 5.5GB/s (raw), typical 8-9GB/s (compressed)
Expandable storage: NVMe SSD slot
External storage: USB HDD support (PS4 games only)
Optical drive: 4K UHD Blu-ray drive
With all these specs on would have the thought of it being expensive but the decision was clearly made to cut down on the cost but still give you the best hardware and GPU out there.
INTERFACE
When powering up gaming consoles, the interface is what always creates the first impression, the new interface almost resembles android menu screens that most people love and are used to due to their design.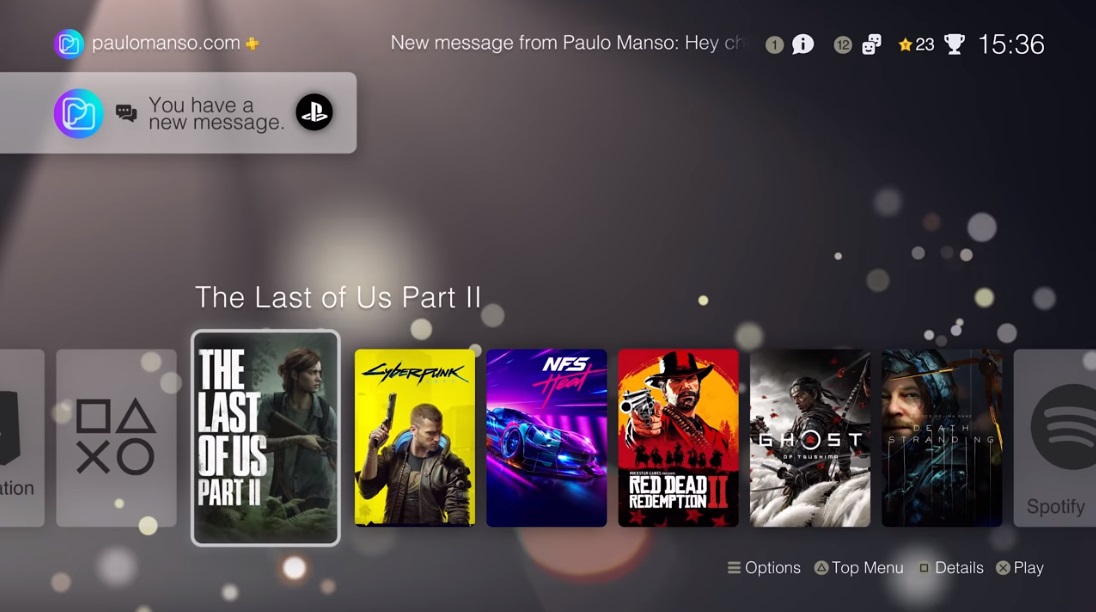 Ps 5 has created a much friendly and simplified interface for users to enjoy. It is made up of a long horizontal line of square icons with bright amazing and different colors, each tiny square adds a contextual design, which is compensated with a full background image behind it which you have the option to change to whichever one you desire.
REDOWNLOADING PS4 GAMES
There is always that one game that PS 4 gamers like and may not be readily available on PS 5 at the moment, your love for the game should not let you miss out on PS 5. Your favorite PS 4 game can now be downloaded onto your PS 5 and you get to continue where you left off but now in a much better machine and perfect display than you earlier had.
VIRTUAL REALITY
Right now, virtual reality is slowly becoming the future of gaming, and PS 5 is not being left behind. Its virtual reality experience is on another level, get to enjoy a 360-degree vision of VR. Get immersed in your fantasy as you become a living, breathing game connected to the virtual gaming world and experience your game coming alive all around you everywhere wherever you turn.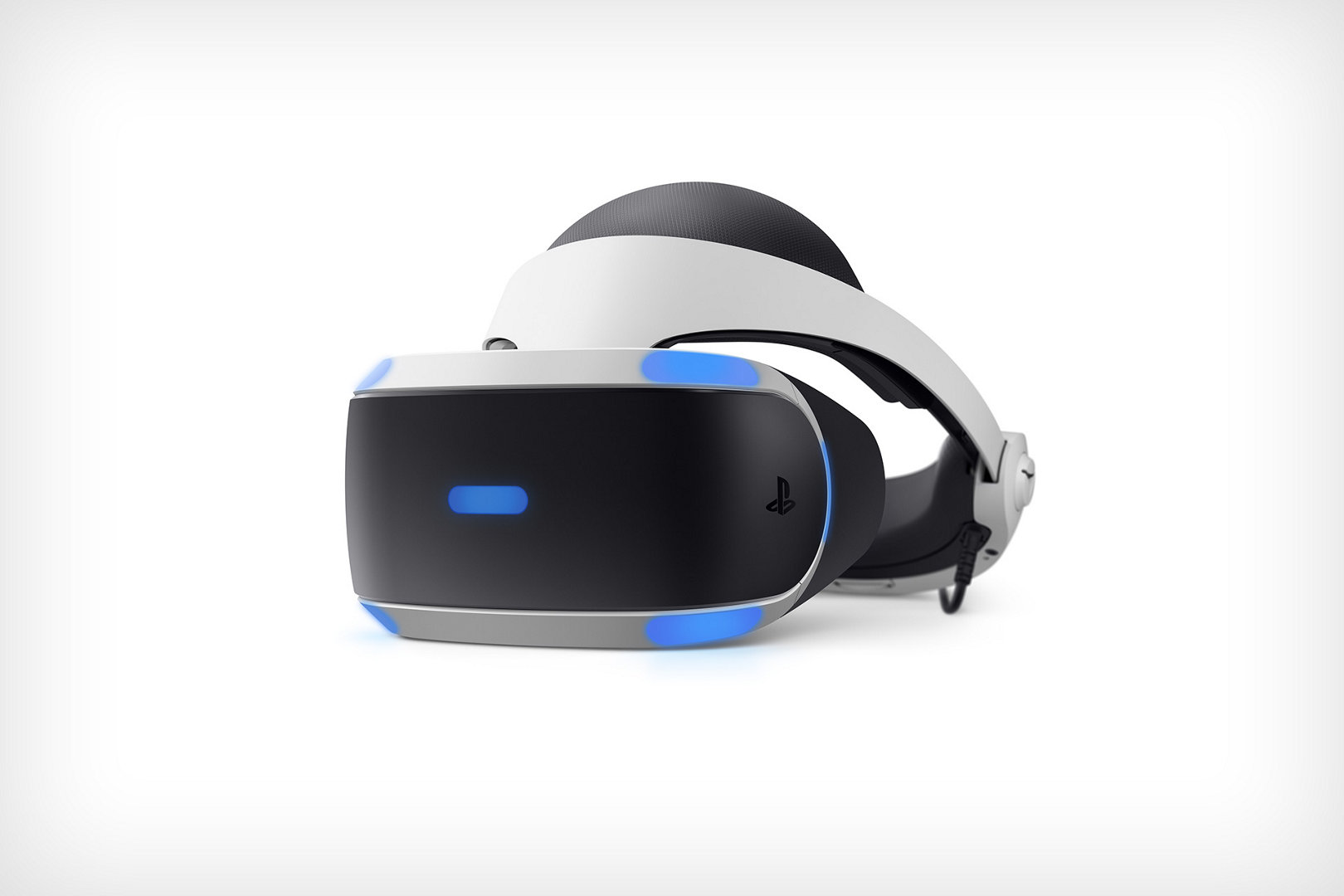 Sound does not get better than this discover a new wave in sound is taking over as 3D Audio. 3D audio technology makes a sound not just vibrate from the headset to your ears but creates the illusion of sound coming all over you, you get to pinpoint the different sounds and exact directions they are coming from.
Get in touch with other gamers all around the world with the built-in mic on the VR. Chat to them online and discuss in-game tactics like you are next to them.
ACCESSORIES
The PS 5 is a creation intended for everyone to enjoy, that is why you can hook up your PS 5 to other devices or link them up altogether.
With its Bluetooth connectivity, you can connect your wireless headset that is a pulse 3D wireless headset, and immerse yourself more in the game or connect it to your two dual sense controllers or the HD Camera with dual 1080p lenses.
NETWORK
Networking and PS 5 work hand in hand in well-balanced synchronicity. It connects perfectly with Wi-Fi 6 802.11 AX standard which has better connection status and is fast with the ability to get strong connections even behind walls.
Box Content
Sony Play Station 5
DualSense controller
Power Inlet Cable
accessories
User Manual